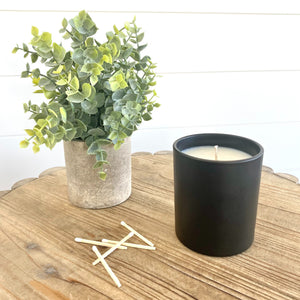 Amazing!!!!
I love my candle!
Not only is the black matte ceramic container so sleek and nice looking, the candle itself smells amazing! I'm very particular about candles and scents and these ones were over the top and exactly what I was looking for! I look forward to when I can burn the candle because it just smells so good and love that it's a clean burn and lasting so long already
Thanks so much for taking the time to leave us a review! Thank you for your support!
Great scents, NO TOXINS! :)
Their scents are unmatched! And I love that they're soy candles withOUT lead, zinc or phthalates! I have these 8oz candles all over my house (guest room, kitchen, living room) and even just leaving the lid off let's out the scent beautifully!
Thank you so much for your review and for your love and support! So happy you love them!
Great smell
They smell so good, they burn so clean. They are my new favorite candles.
So happy to hear you love our products! Thanks for your support and for leaving us a review!
delightful candle!
Customer service is excellent, they go above and beyond to take care of you. Ordered the crème brulee (it is amazing) and the spiced ginger (also amazing)! Will be ordering again and sharing with friends.
Thank you so much for your kind review! We are so happy to hear that you love our products!