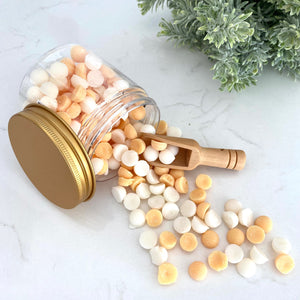 Amazing scents without the headache!!!
Love these mini melts so much!
Yay! Thanks so much for the review!
Yummy
I love the melts! They smell, amazing! And I love that they are clean! I bought one of each of the fall scents, and they are all delicious! They make my house smell so good!
Our melts are one of our favorite products! Bringing happiness and yummy smells to everyone's home!
Best mini melts ever!
Love these mini melts so much! They're perfect for when I'm cleaning and don't have enough time to let my candles burn evenly. I've loved each scent I've gotten-I don't think there is a bad one!!
Yay! We love hearing that our melts are convenient AND smell amazing! Thanks for your review!
Love the mini melt option!
I love the option of mini melts! more low maintenance than a candle but just as amazing!!
So true!! We did multiple tests with different companies melts and ours blew them all out of the water! We only offer the best of the best!
Love them💕
The mini melts are a great product. They smell great and make my home smell wonderful. So glad I purchased them 😊.
Thanks so much for the great review and for all of your support! We are so happy to hear that you love our products!